Best Sale
FEBICO Flogen® / Color for Life Sciences Service Introduction
Far East Bio-Tec Co., Ltd. (ALGAPHARMA BIOTECH CORP.) is Taiwan Flogen® / Color for Life Sciences supplier and manufacturer with more than 40 years experence. Since 1976, in the Chlorella and Spirulina, both organic certified and natural available in finish products, raw powder, bulk tablets, private labeling and OEM/ODM services, FEBICO has been offering our customers high value Flogen® / Color for Life Sciences production service. With both advanced technology and 40 years experience, FEBICO always make sure to meet each customer's demand.
FEBICO welcome you to view our other quality products and feel free to
Contact Us
.
Flogen® / Color for Life Sciences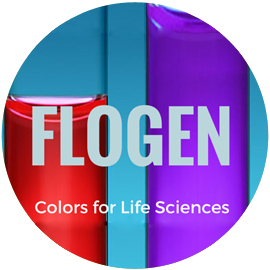 Phycobiliprotein plays a major role in microalgae photosynthesis. They are a group of water-soluble pigments and can be classified by the fluorescent spectrum. FEBICO currently develops R-PE, APC, CL-APC, PerCp, B-PE, Cr-PE, R-PC, and its relevant conjugates.
Flogen® is Febico's brand for phycobiliprotein, including:
- Flogen® Phycobiliprotien
- LyoFlogen® Phycobiliprotein
- Instant LyoFlogen® Phycobiliprotein
- LyoFlogen® Recombinent Protein
- Flogen® Conjugate
- Flogen® Conjugate Service