Chlorella Sorokina®
Chlorella Sorokiniana microalgae producers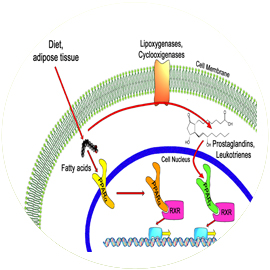 Shown above, Chlorella PPARs are a group of nuclear receptor proteins that function as transcription factors regulating the expression of genes. PPARs play essential roles in the regulation of cellular differentiation, development, and metabolism (carbohydrate, lipid, and protein) of higher organisms.
Chlorella Sorokina® is a line of formulated products based on a superior strain of thermophilic chlorella called Chlorella Sorokiniana. Unlocking the body's natural mechanism in regulating blood pressure, lipids, glucose and inflammation homeostasis.
THE PPARs ACTIVATOR
FEBICO SOROKINA® It is a line of formulated products based on a superior strain of thermophilic Chlorella called Chlorella Sorokiniana. No other products can match the HIGH QUALITY SOROKINA® superior nutritional value and it's 100% naturally occurring lipids for activating alpha, beta, and gamma PPARs. Sorokina® products surpasses all the other PPAR dietary supplements in terms of quality, effectiveness and availability. We are able to achieve these incredible feats through research (in house lab and academic collaborations), quality check (HACCP, ISO), and own manufacturing (Pingtung, Taiwan).
Sorokina® works by unlocking the body's mechanism in controlling lipid, glucose, cell division, and inflammation homeostasis. In scientific terms, Peroxisome Proliferator-Activated Receptors (PPARs) and Poly Unsaturated Fatty Acids (PUFAs) are the two key groups of molecules that regulate these health conditions. PPARs are a group of ligand-activated receptors and are involved in mediating lipid metabolism and glucose homeostasis. Upon activation by PUFA ligands, PPARs regulate the expression of target genes involved in a variety of important physiological pathways such as lipid metabolism, insulin sensitivity, cell differentiation, inflammation, proliferation and apoptosis.
In short, PUFAs are the "KEYS" and PPARs are the "DOORS". With the doors unlocked, the body is free to produce the essential enzymes and proteins to help regain normal homeostasis. Thus, with the Sorokina® products modulating the PPARs metabolic pathway, nature has provided us with a way to control diabetes, blood sugar levels, triglycerides and cholesterols.
The Sorokina® product line offers the following forms:
Sorokina PPAR Tablet
Sorokina PPAR Softgel
Sorokina CGF Extract
Sorokina® PPAR Tablet
It is an exceptional health supplement containing abundant PUFAs, or the "keys" to help balance body's metabolism. The product is based on professional scientific research and can help anyone who is concerned about maintaining optimal health condition. Sorokina® PPAR Tablet is formulated from microalgae with exceptional source of PUFA. These microalgae are cultivated so that the PUFA produced is at an optimal rate and conditions. The microalgae include Chlorella Sorokiniana, FEM-101 Spirulina, and DHA algae powder. Chlorella sorokiniana is an eukaryotic alga, with a fast growth rate and high PUFA content and it is an important source of a PUFA-rich microalgae. Our special strain of this thermophilic Chlorella thrives in warm weather and accumulates great amounts of PUFA in its cell. FEM-101 Spirulina is a special pure strain own by Febico and is rich in γ-linolenic acid (GLA) and thus is a good source of PUFA. DHA algae powder which is an important source of DHA and other omega 3 and 6 polyunsaturated fatty acids that are good for brain and nervous system well-being.
Sorokina® PPAR Softgel
It is an exceptional health supplement containing abundant PUFAs, or the "keys" to help balance body's metabolism. It is a source of microalgae PUFA. Not all fats are bad for you; in fact your body needs certain fat compounds to function. Many sound scientific studies are showing that PUFAs, most commonly Omega 3s and Omega 6s have a number of health benefits if consumed on a regular basis. The omega-3 fatty acids are absolutely essential and must be supplied in the diet for proper eye and brain development in the infant. The omega-3 fatty acid responsible for these vital developmental roles and in maintaining the normal functions of the retina in vision and the brain and nervous system is docosahexaenoic acid (DHA or 22:6n3). DHA is fortified in infant formulas around the world and it is also found in mother's milk. Another very important function of DHA and a second omega-3 fatty acid called eicosapentaenoic acid (EPA or 20:5n3) is in heart health. These two long chain omega-3 fatty acids are effective in reducing blood triglycerides in patients with high levels such as in the condition of hypertriglyceridemia and in lowering the risk factors for coronary heart diseases.
The cardiovascular and brain health benefits of polyunsaturated fatty acids (PUFA) have been researched and published recently and much interest have been generated in its dietary consumption. Microalgae have been an attractive source of PUFA due to their inherently high PUFA content. Some microalgae respond to stress conditions by producing even higher amounts of PUFA concentration.
Sorokina® CGF Extract
Known as Chlorella Growth Factor (CGF), is derived from the hot water extract of Chlorella that contains precious mixture of all the water-soluble ingredients in Chlorella. Only 0.57 grams of CGF can be extracted from 1000 grams of Chlorella. CGF extract is known for its growth promotion and healing properties and contains full of nucleic acids, peptides, water-soluble vitamins and minerals, which is a remarkable nutritional supplement. CGF is found to promote rapid growth for children and also it can build immune systems while promoting rapid tissue healing, both internally and externally. It also strengthens our body's ability to recover quickly from strenuous exercise and even disease.
For detailed product information and inquiry please contact us.
---