AntiViral Remedy
Natural Cold and Flu Remedies
Apogen® antiviral remedy product is an unique extraction from the proprietary microalgae strain FEM-101, containing active essence ingredients including Allophycocyanin(APC), C-phycocyanin(CPC), spirulina growth factor, sulfated polysaccharide, peptide, nucleic acid, amino acids and trace elements. Apogen® protects you against a wide range of viral infections, including flu, enterovirus, influenza, respiratory syncytial virus and dengue virus. Apogen will protects cells by creating a "health viral firewall" that many viruses cannot penetrate through. Apogen® received patented in the United States (US patent 6346408) and Taiwanese patent (TW patent I 272947), and was published in the Journal of Medical Virology 2003 70:119-125).
---
---
APOGEN for ANTI-VIRUS, new dietary supplement by FEBICO
FEBICO invested almost 10 years of R&D in the self cultivation of their organic spirulina FEM101 to extract the purest water soluble Apogen microalgae protein. In a research collaborated with the Graduate Institute of Biomedical Sciences of Chang Gung University in 1999, FEBICO found that the Apogen microalgae protein contains APC, CPC which is proved to effectively control and resist Enterovirus 71, Influenza virus A / B type, delay virus replicating speed, and slow down the process of aptosis. This research is patented in the United States (US patent 6346408) and Taiwanese patent ( TW patent I 272947), and was published in the Journal of Medical Virology 2003 70:119-125). Apogen is a anti-viral and immune boosting supplement.

In 2002, FEBICO continued studies on the types of viruses that Apogen is capable of suppressing. The research shows that the Apogen microalgae protein is capable of suppressing 6 types of enterovirus, Influenza virus A / B type, and 9 types of herpes simplex virus. In 2006 FEBICO also began researches on respiratory rotavirus. According to National Taiwan University's empirical studies, Apogen once again proves that it is effective in suppressing respiratory rotavirus. Ensuring that the Apogen microalgae protein is a multifunctional type of material that is capable of boosting the immune system and suppressing different types of viruses.

Apogen microalgae protein is extracted from natural spirulina. It is water soluble, safe to use and is currently being produced into different types of dosages, including tablets or powder form. It can protect oral mucosa cells, form protective protection films and prevent virus attacks, which makes it a natural remedy against viruses and to boost one's immune system.

The fast changing pace of the human environment, enables the world to be contracted with viruses in very short time. Under unavoidable circumstances, people should begin by preventing it with a stable healthy foundation for human's bodies, building a firewall, and stay far away from the threats of new viruses.
Viruses are exposed very frequently nowadays, mostly spread through saliva and contact. It is also often seen in everyday news, the reports and cases of new viruses contracted by people who have weaker immune systems such as children, elderly, and frequent travelers in and out of public areas.

Just like the wide spread of Enterovirus during the summer season, infection symptoms are appearance of small blisters or ulcers in the mouth, palms, and the soles of the feet. Serious symptoms are drowsiness; unconsciousness, weakness in limbs; muscle twitching; coughing, vomiting; shortness of breath and other symptoms, leading to pneumonia, myocarditis and other fatal complications. The Rotavirus is popular during the change between the seasons of autumn and winter. Common infection symptoms are fever, vomiting, diarrhea, serious cases may lead to severe dehydration, convulsions, shock and death. The influenza is also a common virus during this time of the year. When infected, it could cause fever, headache, muscle pain and other symptoms, easily leading to bronchitis, pneumonia, encephalitis and other complications. Therefore the prevention of viruses is absolutely vital. Also, viruses are fond of affecting children because of weak immune systems, and parents are normally the carriers of viruses who transmit the viruses. Therefore, the whole family should be aware of viruse attacks and start precautioning it whenever possible.

FEBICO's Apogen Mint Lozenge's main ingredient consists of a patented extract from the self-produced microalgae Spirulina- Apogen Phycobiliprotein Protein. Research has proven that it is an immune booster and capable of preventing viruses such as the Enterovirus, Rotavirus, and Influenza. The Apogen Phycobiliprotein can form a protective layer to prevent the intrusion of viruses, similar to the effects of putting oxygen masks onto cells, simultaneously forming a protective firewall around people's health. The Apogen Mint Lozenges contains no harmful products, and can be consumed by children from the age of 1and even pregnant women. Adults should take 1 to 2 lozenges per day. Increase dosage (3-4 times daily) during infections.

For protection against all sorts of viruses, the concept of "Prevention rather than treatment" should be emphasized. Apart from the regular exercise and balanced dieting to increase immunity, it is often recommended to avoid public areas, wash hands often, wear masks, and to use FEBICO's Apogen Mint Lozenges to boost the immune system of the whole family.

---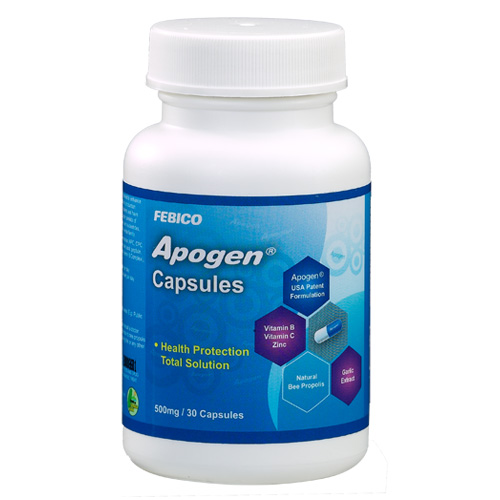 Apogen Capsule for Immune Wellness (FEBICO)
Apogen Capsules is a natural remedy that provides sufficient nutrition sources such as, vitamin B group, essential amino acids, trace elements, etc., Balancing the required nutrition the body needs even on a busy day.
For better living and brighter futures, the working class tends to tire themselves to outshine others in the work fields due to tough competition. Stress and pressure are built up day by day and people often neglect their health conditions. Bad health can cause weakening of the body's immune system, low moral and spirit, physical fatigue, and nutritional imbalance. These conditions can prevent one from maintaining in top form, and sometimes even create irreparable damage to the body.
Apogen Microalgae Protein Capsules were especially designed for the working class as described above. Using nutritional balanced organic spirulina as a basis, providing sufficient nutrition sources such as, vitamin B group, essential amino acids, trace elements, etc., to balance the required nutritions the body needs even on a busy day. Rich vitamin B group and essential amino acids have the ability to speed up metabolism, enabling one to become vitalised and energetic. These elements also have the ability to adjust the body into alkaline body types which are less prone to sickness, ensuring the healthiness of the body. Combined with the patented protein extract from organic spirulina known as ApogenR, this ingredient can boost the immune system and prevent the attack of viruses in the environment such as Influenza virus, enterovirus, rotavirus and other viruses from entering the human body. These viruses are apparent in all four seasons of the year, and more serious conditions may lead to more sever complications. Therefore, the prevention of such viruses cannot be ignored and must be taken seriously.
As for people who are easily physically or mentally worn out, this product contains garlic extract, which is an energizing ingredient. It is rich in protein, calcium, phosphorous, iron, and vitamin B1, B2, C, E, calcium, iron, germanium, unsaturated fatty acids, selenium, and up to twenty other active ingredients which includes scordinin and allicin. Scordinin can enhance metabolism, allicin can be combined with vitamin B1 to improve absorption and promote normal flows of metabolism, reducing the loss of vitamin B1 and physical fatigue. Propolis is also an ingredient which has sedative effect, and can eliminate the anxiety and insomnia caused by stress symptoms and help physical recovery.
Health management is a task one must be aware of, one capsule a day can provide good body maintenance, reduce fatigue, immune boosting and recovery of strength. When striving for success, don't forget about body health!

---
Apogen Microalgae Protein, the terminator of Enteroviruses
Summer is just around the corner, and so is the peak season of enteroviruses. The CDC presented surveillance data that showed the amount of patients treated for foot and mouth disease had accumulated over 23000 people, and that was the figures of last week, which means the numbers are continuously growing. This figure has set a record in the last 6 years and almost 2000 people were sent to the emergency room because of enteroviruse. Neighboring countries such as Japan, Macau and South Korea have also reported rapidly increasing cases of enteroviruses. South Korea for example, the current epidemic is already 8.5 times over the same period last year. Although the current popular type of enterovirus is the Coxsackie A6 type, which is unlikely to lead to more severe sicknesses, but the seriousness of this disease is still uncertain. CDC reminds that preschool infants are high risk groups of enterovirus, and if symptoms such as drowsiness, nausea, myoclonus and repeat vomiting occur, then be sure to send the infants to large hospitals for treatment.

The incubation period of enterovirus may last 2-10 days. Enterovirus mainly enters the system through the gastrointestinal tract (fecal, oral, water or food contaminations), or respiratory (saliva, coughing or sneezing). It can even be transmitted through the fluid of the patient's skin blister. Therefore, one should develop good personal hygiene habits, pay more attention to home environment, wash hands frequently, reduce entering crowded areas or areas with bad air circulation to reduce the risk of contamination. It is also important to maintain a healthy diet, moderate exercising, adequate sleep and sufficient dietary supplements to enhance one's immune system.

Since the domestic enterovirus 71 outbreak in 1998, many are now looking for a new method of fighting the virus. A most unique method is to use the active ingredients in microalgae to combat against the virus. Mr. C.C Chiueh, the president of the Taiwan Phycological Society says mentions that microalgae such as chlorella, spirulina and red algae all have cell wall fibers have microvoids that can integrate with toxic substances and then be excreted out of the system.

Apogen Microalgae Protein is a water-soluble extract from self-cultivated organic spirulina, also known as phycobiliprotein, which consists of C-phycocyanin (CPC), allophycocyanin (APC), spirulina growth factor (SGF), sulfated polysaccharide, nucleic acid, peptide, amino acids and minerals. According to the study by Chang Gung University, microalgae protein has the ability to prevent and inhibit enterovirus 71, influenze A/B, Coxsackie A/B virus, and echovirus. In a influenza virus experiment, it also showed the ability to effectively prevent influenza type viruses from infecting cells. The results of this study was so significant that it had also obtained ROC patent (I 295688), and also published in an international journal known as the Journal of Medical Virology May 2003,70:119-125.

AIDS, influenza, avian influenza, Hepatitis B all have its peak seasons every year, and the enterovirus which continuously undergo mutation. These viruses have made the 21st century a century of viruses. Preventing virus has become an important issue, focusing on the effectiveness of microalgae protein; biotech companies continue to study the different usage and effectiveness of microalgae protein on different viruses. Microalgae protein is also now looking into the direction of new drug development, and surely it will continue to be the future star of preventative care.

Source Reference
Hsin-Yu Sung, Chun-Nan Lee, Detection of G1 and G9 rotavirus neutralizing antibodies using reassortant viruses and Study of in vivo anti-rotavirus activity of Apogen, an ex-tract of the microalga Spirulina platensis, 2013
Yi-Hsiang Chen, Gi-Kung Chang, Shu-Ming Kuo, Sheng-Yu Huang, I-Chen Hu, Yu-Lun Lo, Shin-Ru Shih, Well-tolerated Spirulina extract inhibits influenza virus replication and reduces virus-induced mortality
Shin-Ru Shih, Kun-Nan Tsai, Yi-Shuane Li, Chuang-Chun Chueh, Err-Cheng Chan, 04 March 2003, Inhibition of enterovirus 71-induced apoptosis by allophycocyanin isolated from a blue-green alga spirulina platensis, J. Med. Virol. 70:119–125, 2003. Pages 119-125
Chun-Ting Cheng, Chun-Nan Lee, Study of antiviral activity of Apogen, an extract of the microalga Spirulina platensis, 2003, P43
P. D. Karkos, S. C. Leong, C. D. Karkos, N. Sivaji, and D. A. Assimakopoulos, Spirulina in Clinical Practice: Evidence-Based Human Applications, 2011
*These statements have not been evaluated by the Food and Drug Administration. This product is not intended to diagnose, treat, cure or prevent any disease.
Related Product