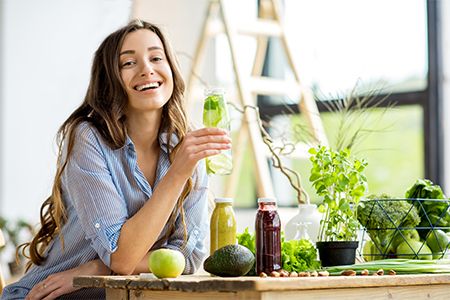 Detox, Colon Cleansing
Natural Body Detox Supplements
Febico Chlorella is 100% vegan, with no binders, no artificial coloring, no artificial flavoring, and absolutely no preservatives. We had developed a patented low-pressure flash expansion process to break the cell walls of the Chlorella. Our patented "Cracked Cell Wall" process enhances Chlorella digestibility rate from 40% to 90% while maintaining all nutrients.
---
Febico Chlorella has an amazing ability to bind to toxins like chemicals and heavy metals, to move them swiftly out of the body. Also, the dietary fiber can support bowel movement and maintain healthy internal body cleansing. Febico Chlorella is also able to support the immune system, fight obesity, speed up fat loss, increase the metabolism and help prevent cancer. These benefits are powerful and can have an impact on your health.
Detox, Colon Cleansing - Natural Body Detox Supplements | World-Class & Certified Manufacturer of Organic Spirulina And Chlorella | Far East Bio-Tec Co., Ltd.
Based in Taiwan since 1976, Far East Bio-Tec Co., Ltd. has been a chlorella, spirulina and dietary supplements manufacturer. Their main products include, Natural Body Detox Supplements, Organic Spirulina, Organic Chlorella, Spirulina Natural, Chlorella Natural and Nutritional Supplements.
FEBICO is the world leading microalgae Taiwan manufacturer of Organic Spirulina, Organic Chlorella, Spirulina natural, Chlorella natural, and using its advanced fermentation facilities to produce high quality nattokinase and spore-forming probiotics. FEBICO is committed to provide highest quality microalgae superfoods and health supplements to our global customers along with our best services.
FEBICO has been offering customers Naturland / EU and USDA-NOP certified chlorella, spirulina and dietary supplements, both with advanced technology and 40 years of experience, FEBICO ensures each customer's demands are met.
View our high-quality microalgae products
Organic Spirulina
,
Organic Chlorella
,
Chlorella Growth Factor
,
Phycocyanin
,
Nattokinase
,
Lactobacillus sporogenes probiotics
,
Apogen Microalgae Protein
,
Trace elements and minerals
,
Nutritional Supplements
,
DHA Algae Oil
,
Antivirus spray
and feel free to
Contact Us
.