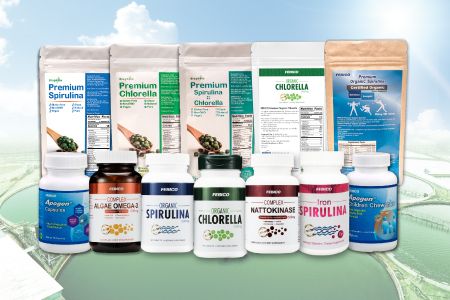 Nutraceuticals / Nutrition Supplements
Multifunction Health Supplements
FEBICO group is the pioneer in manufacturing microalga-related nutritional supplements in Taiwan. We have been in microalgae production for 47 years and established good reputation of its top quality on the global market, acting as a reliable and trusted business partner.
---
Why choose our customs supplement manufacturing services?
Our production conforms to ISO 22000 standards and HACCP principles. All series of Febico nutraceutical are made from 100% natural microalgae, available at wide range of unique health products and functional food supplements suitable for different age of consumers.
Nutraceutical manufacturers
FEBICO specialized in nutraceutical and dietary supplement ingredients with our own formula products. We can provide formula design, ODM, OEM and total solution with fixable minimums if you are looking for food supplements, specialized holistic products, nutrition products, sports nutrition products, infant and toddler nutrition products, please inquiry now.
Nutraceuticals / Nutrition Supplements - Multifunction Health Supplements | World-Class & Certified Manufacturer of Organic Spirulina And Chlorella | Far East Bio-Tec Co., Ltd.
Based in Taiwan since 1976, Far East Bio-Tec Co., Ltd. has been a chlorella, spirulina and dietary supplements manufacturer. Their main products include, Multifunction Health Supplements, Organic Spirulina, Organic Chlorella, Spirulina Natural, Chlorella Natural and Nutritional Supplements.
FEBICO is the world leading microalgae Taiwan manufacturer of Organic Spirulina, Organic Chlorella, Spirulina natural, Chlorella natural, and using its advanced fermentation facilities to produce high quality nattokinase and spore-forming probiotics. FEBICO is committed to provide highest quality microalgae superfoods and health supplements to our global customers along with our best services.
FEBICO has been offering customers Naturland / EU and USDA-NOP certified chlorella, spirulina and dietary supplements, both with advanced technology and 40 years of experience, FEBICO ensures each customer's demands are met.