Inhibition of Enterovirus 71*
Inhibition of enterovirus 71-induced apoptosis by allophycocyanin isolated from a blue-green alga Spirulina platensis, approved by Department of Medical Biotechnology and Laboratory Science in Chang Gung University.
Apogen® is capable of effectively preventing and treating viruses such as flu, enterovirus, influenza, herpes virus, dengue virus, respiratory syncytial virus, rotavirus, and viral infections.
---
Cell Culture Studies
Cell cultures tests were performed using standard MDCK cells exposed to Enterovirus-71, a potentially lethal intestinal virus. The first photo shows normal, uninfected cells seen through the microscope. The second picture shows the type of cytopathic damage that occurs when virus particles enter cells and replicate. The last picture shows how cells exposed to the same level of virus are protected when Apogen® is present. No viral cytopathic damage is observed and cells continue to function normally.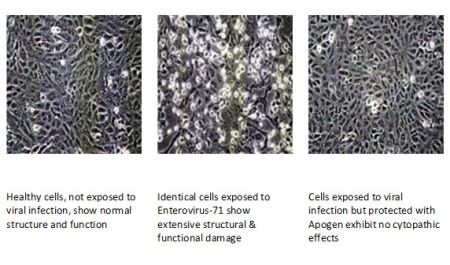 Source Reference
In an independent scientific study of highly pathogenic influenza virus type A/WSN/H1N1 conducted at School of Medical Technology of Chang Gung University, Taiwan.
Shih SR, Tsai KN, Li YS, Chueh CC, Chan EC. "Inhibition of Enterovirus 71-Induced Apoptosis by Allophycocyanin Isolated From a Blue-Green Alga Spirulina platensis," Journal of Medical Virology. 2003; 70: 119-125.
*These statements have not been evaluated by the Food and Drug Administration. This product is not intended to diagnose, treat, cure or prevent any disease.
Related Product