Bpogen Liver Health Capsules
500mg x 180 capsules
liver support vitamin, liver support supplement, liver detox supplement, liver cleanse supplement
FEBICO Taiwan is the pioneer of microalgae producer, having almost 40 years experienced expertise and technology for pure microalgae cultivation. Our specialized R&D team has researched and developed a new biotech procedure to cultivate trace minerals enriched Spirulina by active photosynthesis of Spirulina. It composes organically trace elements obtained from external natural sources as the component of its natural structure.
Scientific studies provide that Bpogen capsules is effective for liver health
A nutritional supplements Bpogen is Spirulina enriched with minerals e.g. zinc, selenium chromium and others antioxidant elements. Those are crucial co-factors for liver detoxification pathway that reduce oxidative stress in liver and maintain healthy liver function. Research studies have shown continue use of Bpogen at early stage can help normalization of cholesterol, fat in liver and chemicals inducing liver inflammation condition.
Specification
Main Ingredients: Mineral enriched spirulina (Includes zinc, selenium, chromium, and other valuable nutrition, which are beneficial elements for the liver)
Packaging Details: 500mg/capsules, 180 capsules/bottle
Service: OEM private label
Product Features
Specially cultivated Spirulina which is rich in phycocyanin, zinc, selenium, chromium and other antioxidant elements.
Research study shows that, an early continuous usage of Bpogen extract can prevent high cholesterol and fatty liver.
Research shows that taking Bpogen liver capsule in advance can effectively reduce the chemical reagents that induce liver inflammation and cirrhosis.
Health Benefits
It can mediate physiological functions, reduce fatigue.
Nourish your physical wellbeing.
The only microalgae producer awarded with organic certificates from Germany, USA, and Taiwan.
Numerous scientific studies prove that Bpogen is effective for liver health.
Specially cultivated Spirulina which is rich in phycocyanin, zinc, selenium, chromium and other antioxidant elements.
Taking Bpogen can prevent and reduce the lipid accumulation in the liver.
Taking drugs and Bpogen combined can synergistically reduce the oxidative stress in chronic hepatitis B patients, and might possibly contribute to the rapid clearance of viral titer and restore of liver function.
Animal study done by National Taiwan University Hospital
Taking Bpogen for 6 weeks can reduce amount of liver lipid level
Blue Color – cell nucleus stained by Hoechst ;
Red Color – lipid stained by Oil Red O
| | | |
| --- | --- | --- |
| | | |
| Fatty liver induced rats show reduction in lipid level in the liver tissue after 6 weeks of Bpogen treatment. | Lipid content is nearly nonobservable in regular diet group. | Rats which fed with high cholesterol diet show high level of lipid content (red color) in every hepatic cells. |
Human Clinical trials conducted at Kuang-Tien General Hospital
Liver cells damages (AST&ALT) decrease indicates restore of liver function.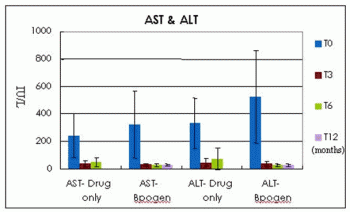 Quality Assurance
Production conforms to ISO 22000 standards and HACCP principles
Product safety verified by in-house and 3rd party laboratories
Free from contaminations of heavy metals, PAHs, pesticides and chemical residues
100% no additives, stabilizers, preservatives or irradiation
Source Reference
Kai-Wen Huang, M.D, Attending physician and assistant professor of Department of Surgery and Hepatitis Research Center in National Taiwan University Hospital
Wang-Sheng Ko, M.D.., Kuang-Tien General Hospital, Tai-Chung.
PubMed central, Arthrospira Enhances Seroclearance in Patients with Chronic Hepatitis B, https://pubmed.ncbi.nlm.nih.gov/35889747/
*These statements have not been evaluated by the Food and Drug Administration. This product is not intended to diagnose, treat, cure or prevent any disease.
Related Products

200mg x 300 tablet

Sorokina PPARs microalgae tablets is 3 combinations for Chlorella Sorokiniana, FEM-101 Spirulina...

Details

500mg x 90 Veggie Caps

Febico nattokinase complex supplement with powerful 4 in 1 anti-oxidization formula, contains...

Details

Read More Nutritional Information

Febico Bpogen is the latest product developed from bio-technically developed spirulina. An adequate usage of FEBICO Bpogen capsules is the solution to building...

Nutritional supplements in sport, exercise and health, Spirulina provide improve exercise endurance, strength and prevent cellular damage.
Bpogen Liver Health Capsules - liver support vitamin, liver support supplement, liver detox supplement, liver cleanse supplement | Taiwan-Based Organic Chlorella, Organic Spirulina & Dietary Supplements Manufacturer | Far East Bio-Tec Co., Ltd.
Located in Taiwan since 1976, Far East Bio-Tec Co., Ltd. has been a chlorella, spirulina and dietary supplements manufacturer. Their main products, include site::product::name_title, Organic Spirulina, Organic Chlorella, Spirulina Natural, Chlorella Natural and Nutritional Supplements, which are produced with advanced fermentation facilities to produce high-quality nattokinase and spore-forming probiotics.
FEBICO (Far East Bio-Tec. Co. Ltd.) is an ISO-22000 and HACCP certified Taiwan manufacturer with more than 4-decades of experiences in producing microalgae based raw materials and finished products, including Chlorella, Spirulina, Chlorella Growth Factor CGF, patented microalgae extract, Nattokinase, probiotics and nutritional supplements. Apart from seeking distributors of FEBICO brand products, we're offering raw materials, finished products, private labeling and OEM/ODM services. Manufacturer of spirulina and chlorella (organic certified and natural) in Febico brand finish product, raw powder, bulk tablets, private labeling and OEM/ODM.
FEBICO has been offering customers Naturland / EU and USDA-NOP certified chlorella, spirulina and dietary supplements, both with advanced technology and 47 years of experience, FEBICO ensures each customer's demands are met.