Chlorella Sorokina PPAR Tablets
200mg x 300 tablet
PPARs activators, Chlorella Sorokiniana, Omega-3 Fatty Acids
Sorokina PPARs microalgae tablets is 3 combinations for Chlorella Sorokiniana, FEM-101 Spirulina and Schizochytrium sp (DHA algae powder). Sorokina PPARs tablets is a natural vitamin contains rich protein, high dietary fiber, phytochemicals (beta carotene, phycocyanin, chlorophyll), 9 minerals, 12 vitamins, 18 amino acids, growth factors, unsaturated fatty acids (GLA, DHA, EPA, ARA). It provides energy lasts for a day via comprehensive list of nutrients.
Sorokina PPARs Tablet is an exceptional health supplement containing abundant PUFAs, or the "keys" to help balance body's metabolism. The product is based on professional scientific research and can help anyone who is concerned about maintaining optimal health condition. Sorokina PPARs Tablet is formulated from microalgae with an exceptional source of PUFA.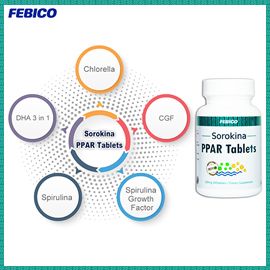 What is Sorokina® PPARs 3in1?
FEBICO Sorokina® is a line of formulated products based on a superior strain of thermophilic Chlorella called Chlorella Sorokiniana. No other products can match the high quality Sorokina superior nutritional value and it's 100% naturally occurring lipids for activating alpha, beta, and gamma PPARs. FEBICO Sorokina® products surpasses all the other PPAR dietary supplements in terms of quality, effectiveness and availability. We are able to achieve these incredible feats through inhouse lab research and academic collaborations, quality check under HACCP, ISO, and our own manufacturing in Pingtung, Taiwan.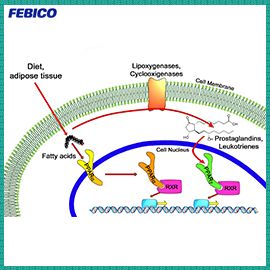 The mechanisms of action of PPARs
FEBICO Sorokina® works by unlocking the body's mechanism in controlling lipid, glucose, cell division, and inflammation homeostasis. In scientific terms, Peroxisome Proliferator-Activated Receptors (PPARs) and Poly Unsaturated Fatty Acids (PUFAs) are the two key groups of molecules that regulate these health conditions. PPARs are a group of ligand-activated receptors and are involved in mediating lipid metabolism and glucose homeostasis. Upon activation by PUFA ligands, PPARs regulate the expression of target genes involved in a variety of important physiological pathways such as lipid metabolism, insulin sensitivity, cell differentiation, inflammation, proliferation and apoptosis.
Looking at the picture shown above, PPARs are a group of nuclear receptor proteins that function as transcription factors regulating the expression of genes. PPARs play essential roles in the regulation of cellular differentiation, development, and metabolism (carbohydrate, lipid, and protein) of higher organisms.
In short, PUFAs are the "KEYS" and PPARs are the "DOORS". With the doors unlocked, the body is free to produce the essential enzymes and proteins to help regain normal homeostasis. Thus, with the Sorokina® products modulating the PPARs metabolic pathway, nature has provided us with a way to control diabetes, blood sugar levels, triglycerides and cholesterols.
Product Features
Phytonutrients and chlorophyll rich, complete in phytonutrients that one tablet consists the best phytonutrients of Chlorella Sorokiniana, Spirulina and DHA algae powder.
An exceptional health supplement contains naturally occurring PUFAs, the "keys" to help balance body's metabolism.
Chlorella Growth Factor (CGF) is found to stimulates body-repairing mechanisms from stress and harmful substances.
Spirulina Growth Factor (SGF) is composed of nucleic acids, peptides, water soluble vitamins and minerals. It is able to reduce viral replication. It is good for supporting human immune system and boosts energy.
The terrific source of microalgae DHA and complete whole food nutrients to support nutritional needs for the vegetarian and can help nutritional needs in pregnant women.
Health Benefits
Activates nuclear receptor to regulate metabolic disorder.
Natural solution for metabolic syndrome.
Cardiovascular Protective Functions
Increases HDL cholesterol and lowers LDL cholesterol Levels
Helps control hyperglycemia and diabetes.
Helps control obesity.
Helps maintain optimal health condition.
Supports brain and eye health.
Source Reference
PubMed Central, PPARs, Obesity, and Inflammation, https://www.ncbi.nlm.nih.gov/pmc/articles/PMC1783744/
From Wikipedia, the free encyclopedia, Peroxisome proliferator-activated receptor, https://en.wikipedia.org/wiki/Peroxisome_proliferator-activated_receptor
*These statements have not been evaluated by the Food and Drug Administration. This product is not intended to diagnose, treat, cure or prevent any disease.
Related Products

500mg x 90 V-capsules

Febico's Natto complex reveals the secret to longevity amongst Japanese people. Precious...

Details

500mg x 60 capsules amber glass bottle

DHA Algae Omega-3 Capsules is 100% natural, vegetarian supplement. It is containing microalgae...

Details

Available in 200mg / 500mg Tablets

Chlorella Product is made in Taiwan, an ideal place for microalgae cultivation. Cultivated...

Details
Have Any Questions?
Contact Us:
info@febico.com
More Details
Chlorella Sorokina PPAR Tablets | Taiwan_Based Organic Chlorella, Organic Spirulina and Dietary Supplements Manufacturer For 40 Years | Far East Bio-Tec Co., Ltd.
Based in Taiwan since 1976, Far East Bio-Tec Co., Ltd. is a Naturland / EU and USDA-NOP certified microalgae manufacturer. Main products, including Chlorella Sorokina PPAR Tablets, Organic Spirulina, Organic Chlorella, Spirulina Natural, Chlorella Natural, Nutritional Supplements and so forth.
FEBICO (Far East Bio-Tec. Co. Ltd.) is an ISO-22000 and HACCP certified Taiwan manufacturer with more than 4-decades of experiences in producing microalgae based raw materials and finished products, including Chlorella, Spirulina, Chlorella Growth Factor CGF, patented microalgae extract, Nattokinase, probiotics and nutritional supplements. Apart from seeking distributors of FEBICO brand products, we're offering raw materials, finished products, private labeling and OEM/ODM services.
FEBICO has been offering customers 100% natural and pollution-free microalgae, both with advanced technology and 40 years of experience, FEBICO ensures each customer's demands are met.
View our high-quality microalgae products
Organic Spirulina
,
Organic Chlorella
,
Chlorella Growth Factor
,
Phycocyanin
,
Nattokinase
,
Lactobacillus sporogenes probiotics
,
Apogen Microalgae Protein
,
Trace elements and minerals
,
Nutritional Supplements
,
DHA Algae Oil
,
Antivirus spray
and feel free to
Contact Us
.